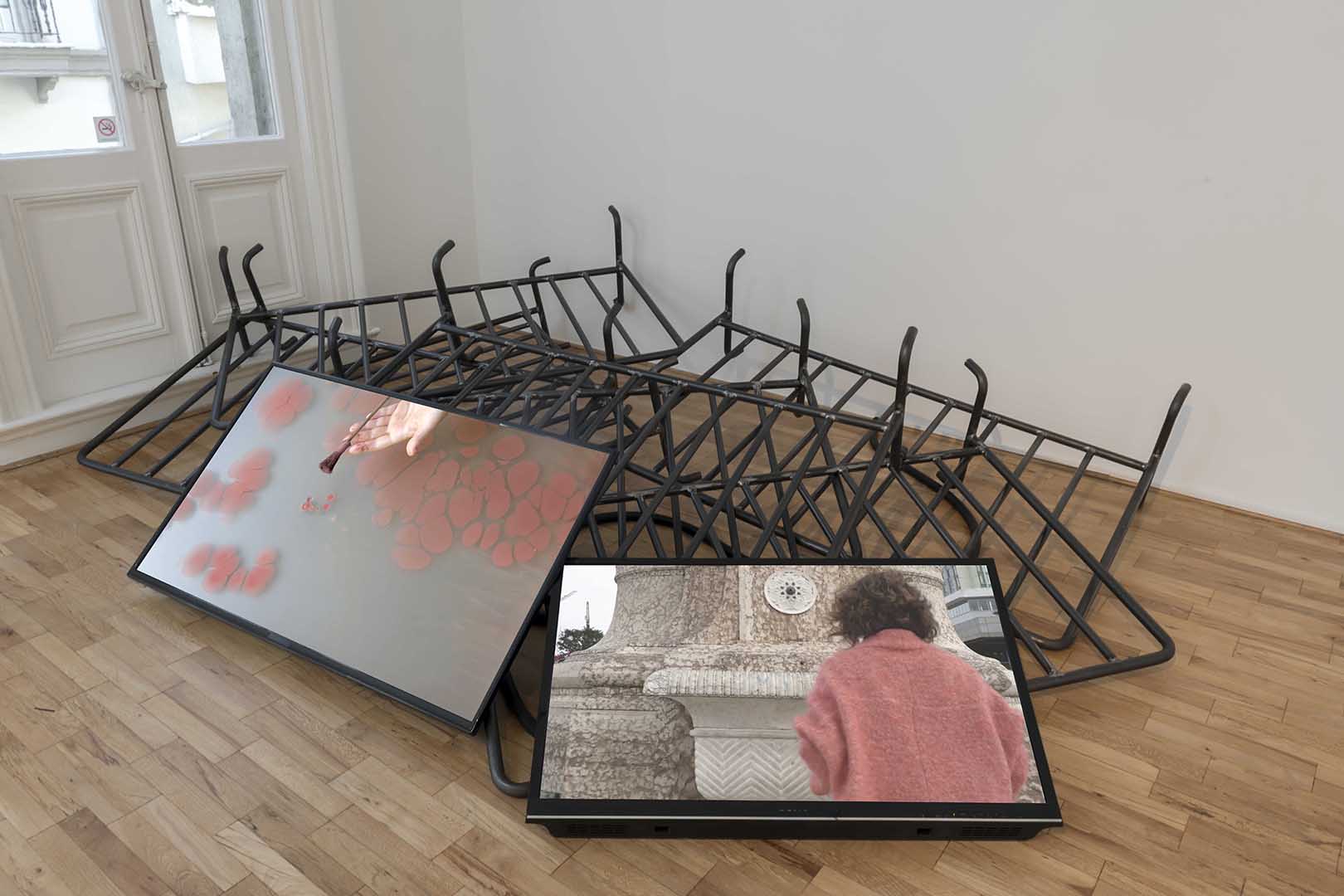 CLEARING SPACE IN STILL WATER
Duran Suda Alan Açmak
2021
Video Installation: 50" and 40" LED Screen, Metal, Two Channel Video, 8'06'' loop
Cinematography Meryem Yavuz
Additional Photography Sibel Horada
Editing Natalin Solakoğlu, Merve Ertufan, Sibel Horada
Sound Emir Buğra Kazak, Sibel Horada
Video Installation Consultants Merve Ertufan, Barış Öktem
Clearing Space in Still Water is a two channel video installation which takes place in İstanbul's Taksim Square, a contested stage for architectural manifestations of changing political regimes throughout Turkey's republic era. Horada picks up on one forgotten detail about the Taksim Republic Monument: the fact that it was originally designed as a square fountain but never connected to a water source, like so many interruptions in the nation's collective memory. She tries to activate a potential (artistic) flow in the rainwater that accumulates in the otherwise dry, vestigial basins on two sides of the monument, by reverting to the art of traditional paper marbling.
On one screen, we see two hands practicing the art of marbling in a water basin with a traditional horsehair marbling brush. On the other screen we watch the same brush caress various surfaces around Taksim Square. We watch the artist as she metaphorically gleans colors off these materials and drops them in the still water accumulated in the basins of the Taksim Republic Monument.
*Commissioned within the scope of SAHA Studio program and produced with the support of SAHA.
Sibel Horada, Clearing Space in Still Water, Installation Views at Versus Art Project, 2021
Sibel Horada, Clearing Space in Still Water, Installation Views at Kunsthaus Göttingen, 2022