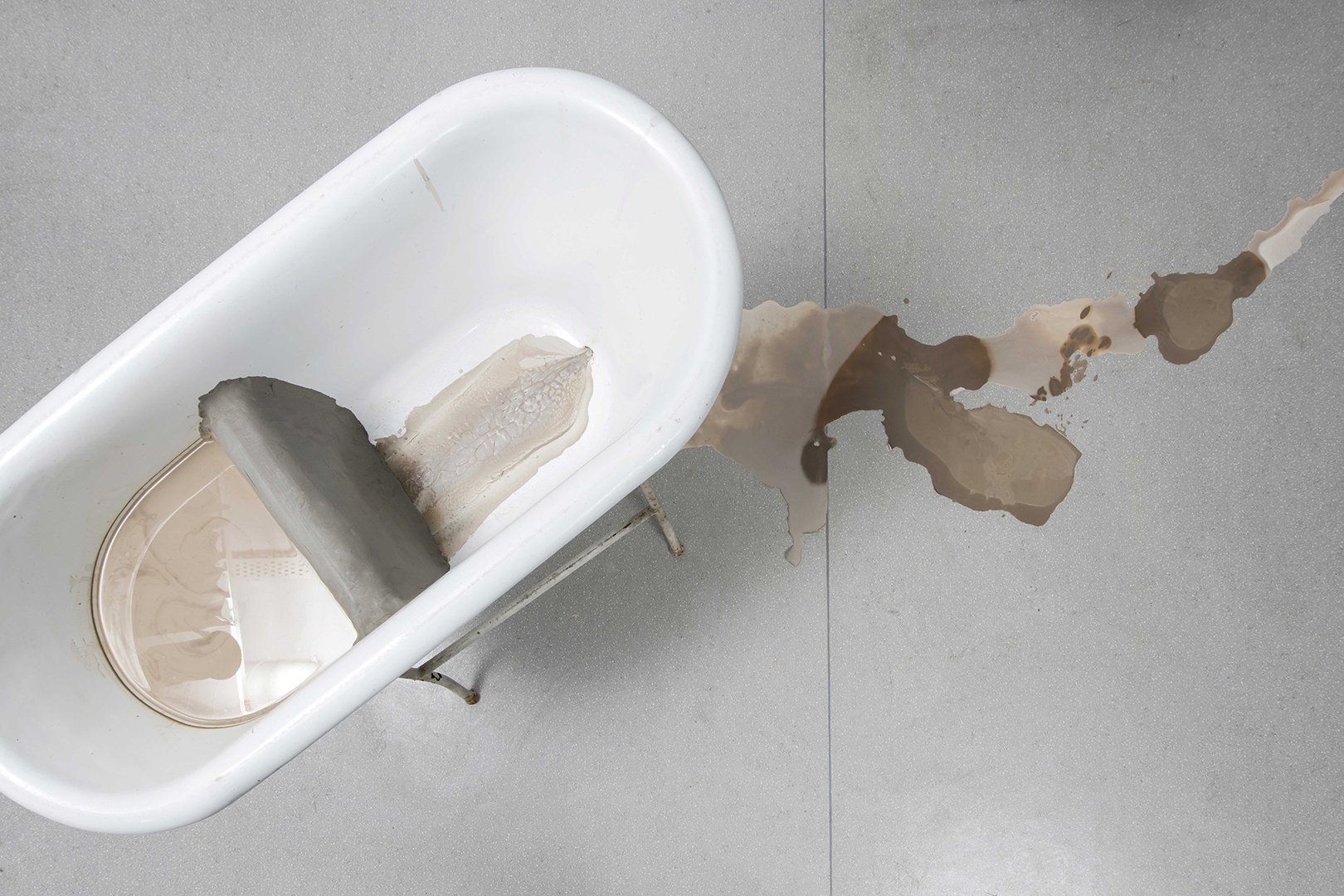 Sibel Horada focuses on collective and personal histories with an interest in urban, archaeological and ecological cultures. She investigates memories of erasure with stories that weave together strange, coincidental details. For Horada, memory is not only the act of recollection, but also a process of reproduction and transformation. Using text and forms, she materializes her encounters in poetic sculptures and installations.
After completing her BA in Visual Arts at Brown University, USA in 2003, she pursued her MA in the Faculty of Art and Design at Yıdız Technical University. Her first solo exhibition, "Fire Chronicles" opened in 2012 at Daire Gallery. Her second one "a Fall", followed the next year at the same gallery.  "Zwei Positionen: Sibel Horada und Buket Savcı" opened as two simultaneous solos at Kunstverein Ludwigsburg in 2018. Later that year, "An Internal Garden" took place at Depo, Istanbul.  In 2017, "Floating Tactics After a Sunken Island" at Daire Gallery was her first curatorial experience. 
Horada's recent group exhibitions include "Fluid Dynamics" at Versus Art Project (Istanbul, 2021), "Im/Permanent Liberty" at Bilsart (Istanbul, 2021), "Deep Current" at Halki Seminary (Heybeliada, Istanbul 2019), "Anarchitecture" at Ariel Sanat, 2017; "Port Izmir 3 -International Triennial of Contemporary Art", İzmir, 2014; "Signs Taken in Wonder: Searching for Contemporary Istanbul", 2013,  MAK Museum, Vienna ve Kunstverein Hannover;  "HereTogetherNow Public Presentation", 2013, MataderoMadrid; "An Attempt At Exhausting a Place", Passover Bakery, 2013, Istanbul.
Horada was an artist in residence at Camargo Foundation (2020) as part of BMCT, SAHA Studio (2019), MataderoMadrid (2013) and AmongOtherThings in Bolu (2010). She was the recipient of HSBC sculpture competition in 2007.
She lives and works in Istanbul.
1998 – 2003 Brown University, B.A. in Visual Arts / ABD
2008 – 2011 Yıldız Technical University, M.A. in Art and Design, İstanbul
2018 "Zwei Positionen: Sibel Horada und Buket Savci", Kunstverein Ludwigsburg, Germany
2018 "An Internal Garden", Depo, Istanbul
2013 "A Fall", Daire Gallery, Istanbul
2012 "Fire Chronicles", Daire Gallery, Istanbul
SELECTED GROUP EXHIBITIONS
2021 "Fluid Dynamics" Versus Art Project, Istanbul 
2021 "Im/Permanent Liberty" Bilsart, Istanbul 
2021 "Does It Feel Cosy", British Council Museum Without Walls
2020 "Saha Open Studio", Saha Studio, Istanbul
2019 Choose Only One Master – Nature, Evliyagil Dolapdere, Istanbul
2019  "Deep Current", Halki Seminary, Heybeliada, Istanbul
2019  "Roots and Growth – Traditional and Contemporary Art from Turkey" Museum of Islamic and Near Eastern Cultures, Be'er Sheva, Israel
2017 "Floating Tactics After a Sunken Island", Daire Gallery, Istanbul
2017 "Anarchitecture", Arielsanat, İstanbul
2017 "Now You Are Here", Arte Sanat, Ankara
2017 "Fragility of Now", Daire @ 42 Maslak Artspace, İstanbul
2016 "Conference of Birds", Arielsanat, İstanbul
2016 "Punta Atmak: Mask Tiyatrosu", Sakıp Sabancı Müzesi, İstanbul
2015 "(re)present exhibist: 2 years", Mixer Arts, İstanbul
2014 "Port İzmir 3 -International Triennial of Contemporary Art", 2014, İzmir
2013 "İsimsiz II", Pilevneli Project, İstanbul
2013 "Signs Taken in Wonder: Searching for Contemporary Istanbul", Kunstverein Hannover
2013 "HereTogetherNow Public Presentation", MataderoMadrid, Madrid
2013 "Signs Taken in Wonder: Searching for Contemporary Istanbul", MAK Museum, Vienna
2012 "Göz Kararı, Yaygara", Çankaya Belediyesi Çağdaş Sanatlar Merkezi, Ankara
2012 "Turquoise", Galerie Maurits Vad de Laar, The Hague, Netherlands
2012 "Fire Chronicles", Daire Gallery, Istanbul (Solo Exhibition)
2012 "An Attempt At Exhausting a Place", Hamursuz Fırını, Istanbul
2011 "Personal, And It Is Not", Daire Gallery, Istanbul
2010 "On the Go" A.O.T. Exhibition, Architecte Simotas Building, Istanbul
2010 "Lives and Works in Istanbul", Sanat Limanı, Istanbul
2010 "XXIX. Contemporary Artists Istanbul Exhibition", Istanbul
2010 "+Infinity: A selection from Ebru Özdemir Collection, Cer Modern, Ankara
2010 "Ambiguous Situations", Yüksel Sabahcı Art Center, YTU, Istanbul
2009 "Borders and Orbits 05", Siemens Sanat
2017 "Floating Tactics After a Sunken Island", Daire Gallery, Istanbul
2010 Among Other Things AIR, Bolu, Turkey
2012 "HereTogetherNow" Residency at MataderoMadrid, Madrid 
2019 Saha Studio, Istanbul, Turkey 
2020 BMCT at Camargo Foundation, Cassis, France
2007 HSBC Sculpture Competition: 1st Prize